About me
Evgeny Kozlov.Theatre director, choreographer and teacher.
about the company
Evgeny Kozlov
Do-Theatre
artistic director

choreographer

Founded in 1988 as an experimental physical and dance theatre company, DoTheatre is considered one of the most influential group to have come out of post Communist Russia. The company pioneered a stile of extreme physical theatre and created a dance language known as Russian Modernism which is brutal, demanding, yet infused with poetic tension. Since the early 1990's DoTheatre have both carved out unique place in European theatre and continued to develop their own style through international collaboration. DoTheatre today is more then 30 years of professional staging in more then 30 counties around the world. Triple Edinburgh Festival First award winner (1999, 2001,2007), nominated for: Total Theatre Award (2001, 2003), National "Golden Mask" Award 2008, "no-ballet" international choreography competition 2010. From the year of 2003 to 2017 company was based in Aachen (Germany) and from the year of 2017 moved to Berlin, continue to tour their work to major dance and theatre festivals all over the world..
Founded in St. Petersburg, 1988.
Moved to Germany,1998. Potsdam, Aachen, Berlin.
Touring worldwide in more then 30 countries.
International collaborations, site- specific projects, teaching.
My Portfolio
01.
What we can offer
From touring our own productions,to developing a new performance,presentation or project, and giving a masterclass or workshops.
Touring productions
difficult lovers
un4tunate tales
rawwar
we currently touring 3 productions."Difficult Lovers" and "Un4tunate tales"- cooproductions of Do-Theatre and Teatro Libero/Palermo, Italy and "RawwaR"- cooproduction Do-Theatre & Buehnenwerkstatt/Graz, Austria.
Developing performances, prsentations, projects
Theatre/dance piece
Presentations/ events
Projects
We can offer to make a complete dance-theatre production according your wishes and needs, as well a site-specific presentations and events, such as opening of the exibition, festivals and so forth.
Workshops/ Master classes
Master class
Workshops
Workshop project
We can offer from single master class, to 1 week workshops and longer workshop project with the presentation at the end.
Interested in our projects ? Visit our contacts page :
Contacts
02.
Working Process
There are a several stages from the creating the idea, through the development to the final presentation.
Discuss the project

Creating and discussing the idea

In this stage we create a general plot for the project, selecting and negotiating the cast and positions.

01.

Develop & elaborate

Development.

Rehearsals with the crew,creating music, sound, costumes, light and visual scape.

02.

Final presentation

General rehearsal, Press release and Opening

Final stage combines PR preparation, photo and video shooting, general rehearsal and public performance.

03.
our Skills
here are the elements and expierences of our work.
03.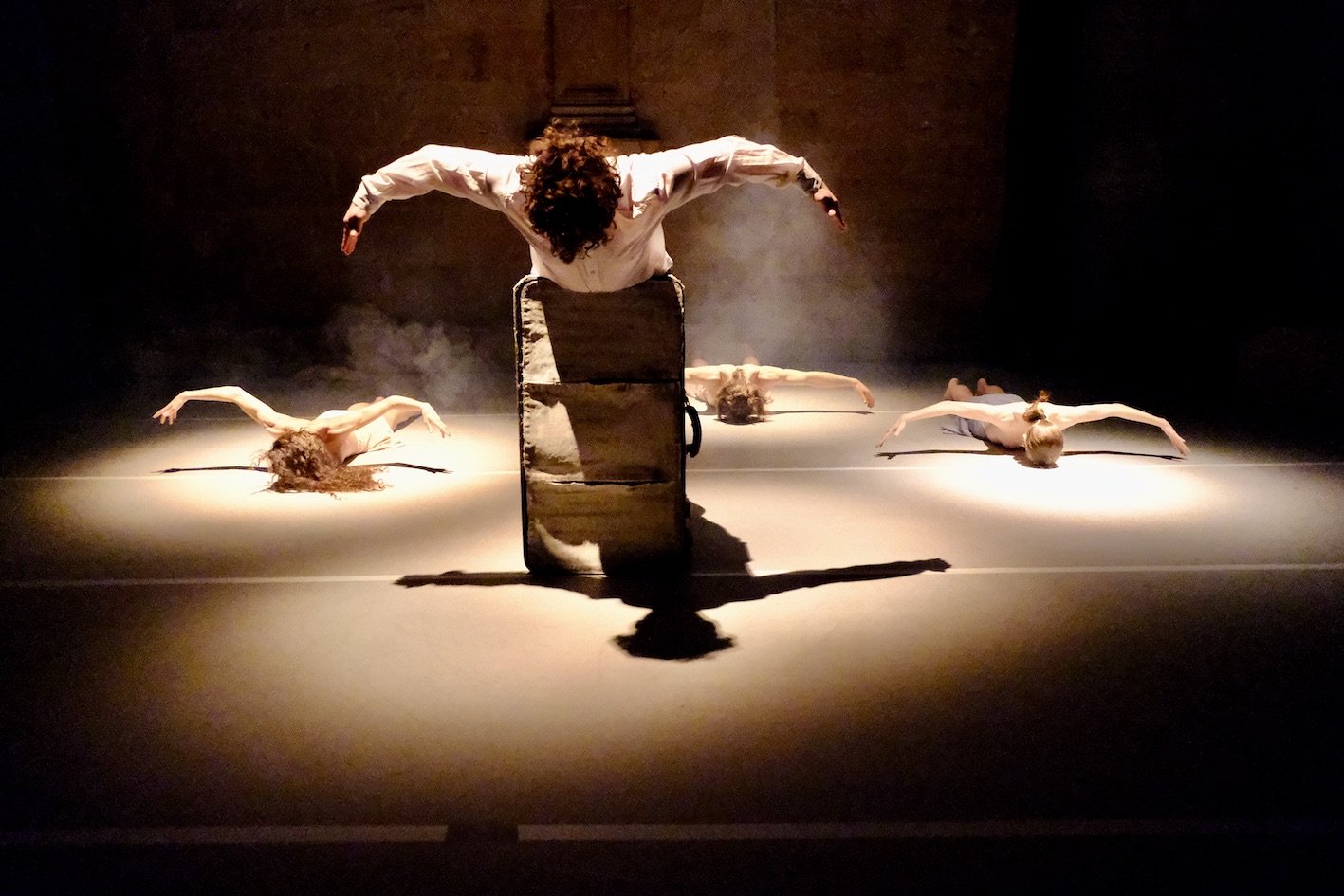 Not a Love Story/Difficult Lovers. short cut
Project inspired by Italo Calvino "Difficult Loves"Co-production of Teatro Libero/Palermo and Do-Theatre/ St.Petersburg/Berlin. With the support of Italian Ministry of Foreign Affairs and Ministry of Culture and Tourism. Directing and choreography: Evgeny Kozlov. Project creator and dramaturgy: Luca Mazzone. Dance: Davide Cannata, Federica Marullo, Valeria Zampardi and Edoardo Scambato. Music: Valentin Stip, Phil Von, Roman Dubinnikov, Mooryc. Camera: Pietro Vaglica. Costumes: Giulia Santoro. Light: Mario Villano. Sound and video design: Evgeny Kozlov. Technical assistant: Fiorenza Dado.
My Vimeo Chanel
Resume
Here are some important stages of my work with Do-Theatre, collaborations with another companies and "Die Etage" school projects
Work in company "Do-Theatre"
1988-now
Do-Theatre and collaborations
Since 1988 founder Do-Theatre company. Work as an artistic director,choreographer and dancer. 1990 mask, costume and stage design in Harlekin Art, Metz France 1991-1992 Carnivals, mime, clown and side specific with Slava Polunin. 1995 'Telling Times' project.Contact improvisation with Steve Batts, Derry/ North Ireland.Contemporary theatre with Ralf-Ralf company. 1997 Release technique with John Jaspers, modern dance with Bruno Genty, Jazz- modern with Pascal Chanterie, contact improvisation with Andrew Harwood 1998 Release technique with David Zambrano, Jess Curtis. 1999 Contact improvisation with Fray Faust, contemporary dance with Igor Sviderski. 2000-2005 Contemporary dance with Isael Mata Cruz Rojas, Ellio Djavazzi, Kira Maria Kirsch. 2009-2012 "Gaga/ dancer" with Erez Zohar (Batsheva Dance company) Since 1989 created more then 150 different scale productions and projects with Do-Theatre company which were touring in more then 30 countries around the world. As well was directing a several productions with another companies. 1993 "Carnival Nights"/Rodina, St.Petersburg, "Kinotavr" cinema festival opening- Sochi/Russia with Slava Polunin. 1995 "Ex…it" leading workshop project in Schloss Broellin/ Germany. "Telling Times" with Fabik Potsdam and Echo- Echo company. 1996 "Trans…it" with Yumiko Yoshioka, "Windcross" with Daniel Weissroth, Schloss Broellin/ Germany. 1997 "K" ( Körper) with Buhnenwerkstadt, Graz/ Austria. 1998 "Principle of Falling" with Buhnenwerkstadt, Graz/ Austria. 1999 "Le Chaval" with "Materia Prima" company Nancy/France. "Nonsense Fiction" with Buhnenwerkstadt, Graz/ Austria. 2001 "Diary of Madman" with "Lit Moon" company Santa-Barbara/ CA, USA. 2002 Opera "Die Dreigroschenoper" (The Three penny Opera) with Lech Majewski, Theater Heilbronn. 2003-2005 Director of Dance departmet Stadt Theater Aachen. 2003 Musical "Kiss me Kate" with Paul Esterhazy, Theater Aachen. 2004 "Life's hard" with Stephen Deazley and Music at Brewhouse, Edinburgh, Glasgow/ UK 2006 Graduation project in the Performance Arts School, Sweden. 2010 Opening of the City Day celebration, St. Petersburg/Russia. 2011 "Sin Agua" project for the Day of the City celebration on the Palace Square, St. Petersburg. 2013 Work with Slava Polunine "Snow Show" in Berlin and Moscow.
Work with Do-Theatre company.
International collaborations.
Site-specific and other projects.
Teaching in the "Die Etage" Performing Arts School Berlin
2014-2022
'Die Etage' and another school productions
Since 2014 Work as the teacher and artistic director in "Die Etage" Performing Arts school in Berlin. School productions/credits InOutSide (2015), 2dark tales (2016.https://vimeo.com/184632092), Vogelperspektive (2017. https://vimeo.com/220073534) Organize 4th. Int. Festival MyMime in St. Petersburg. Earth/Erde (2018) https://vimeo.com/291003788 .
Teaching contemporary dance and physical theatre.
Working with the students on the multidisciplinary field.
Devising the full scale performances.
Throughout time of my work in the school for performing arts 'Die Etage', I staged 4 big scale productions, and several smaller pieces.
Download resume
04.